Dentist in Barking, Essex

The practice itself is brand new, modern & fresh. Staff are so professional and I always get an appointment when I need one

Mrs Hassan, Barking
Why Choose Us
Our Team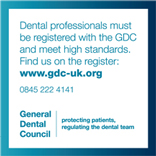 All our dentists adhere to the rules governing the profession under strict guidance from the General Dental Council (GDC) "Standards for Dental Professionals".
Dentists
Shital Sojitra
BDS Birm 2000
GDC Registration No. 78097
Dr Sojitra was educated in London, and then studied further at Birmingham University gaining her qualification of Batchelor of Dental Surgery in the year 2000.
Following this she completed further training in London prior to working for Abbey Dental as a fully qualified Dental Surgeon.
Dr Sojitra has a vast amount of knowledge and experience combined with fine clinical skills. This includes all aspects of general dentistry including emergency treatment.
In addition to her broad knowledge base, she has a particular interest in cosmetic dentistry and endodontics.
Professional membership includes being a member of the British Dental Association.
Languages spoken are: English, Gujrati, and Hindi.
Meenal Kimmens
BDS Cardiff 2010, MJDF RSC Eng
GDC Registration No. 194943
Dr Kansagra graduated from Cardiff University in 2010. After completing further training in Wales, she went on to work for Queensland Health in Australia, practicing in a Hospital Dental Clinic. Since returning she has worked in general practice.
Dr Kansagra is known for her caring and gentle approach, and will ensure to build excellent rapport with all her patients. Her interests include the treatment of nervous patients and children.
She is committed to CPD and further training; and through examinations she has been awarded membership of the Joint Dental Faculties by the Royal College of Surgeons of England.
Dr Kansagra is also a certified provider of the Inman Aligner orthodontic system.
Additional languages spoken: Gujarati, Spanish.
Maryam Bhatia
BCHD Leeds 2010
GDC Registration No. 203775
Dr Maryam Bhatia joined the Abbey Dental Practice in 2017 and has been practising within the Inspire group since 2013.
She gained her undergraduate BChD degree from the University of Leeds in 2010, went onto complete her vocational training in Birmingham and successfully passed her MFDS Royal College of Surgeons (Edinburgh) exams in 2012.
Maryam is currently pursuing her restorative interests at postgraduate level in London.
She thoroughly enjoys being a general family dentist and is able to place nervous patients at ease. Maryam will always be happy to discuss all the options in a consultation with respect to your oral health condition and will strive to ensure you seek out the treatment option that suits you best.
In her own time, Maryam enjoys travelling, photography and believes fine, mindful dining is altogether no passing fad!
Janki Vaghela
BDS London 2013
GDC Registration No. 244882
Janki graduated from Kings College London Dental Institute in 2013. Since then she has completed further training in London and has been working in general practice.
Janki has a keen interest in further education and has recently completed Membership of the Faculty of Dental Surgery Postgraduate Examinations. She is a Member of the British Dental Association.
Janki is known for her calm and collective nature and is sure to put all her patients at ease. Her interests include restorative dentistry and treatment of children.
Additional Languages spoken: Hindi, Gujarati
Gajen Raveendran
BDS Lond 2015
GDC Registration No. 259215
Gajen grew up in East London and was educated at the City of London School. He went on to study dentistry at Bart's and the London Hospital and carried out his vocational training with the South East London Deanery. Upon completing this, he has been in general practice carrying out a wide variety of dentistry. He has a keen interest in cosmetic restorative dentistry.
Dr. Raveendran is known for his friendly and gentle manner; with patients and colleagues alike enjoying their consultations with him.
Additional languages spoken: English, Tamil.
Maryam Zane-Azirani
BDS Lond 1999
GDC Registration No. 77127
Maryam grew up in Iran and later studied dentistry at Bart's and the London Hospital. Following her graduation in 1999, she completed vocational training in Wales. Since then Maryam has been working in general practice and Domiciliary.
Over the years Maryam has attended many different courses such as an Aesthetic Restorative course at Kew led by Mr Stean and the Inman Aligner Certification Course. She is a member of the British Dental Association.
Maryam enjoys all aspects of dentistry, especially Oral Surgery and Endodontics. Putting patients at ease and reducing their level of anxiety and fear is of prime importance to her, and she will do her best to achieve this.
Languages Spoken: English and Farsi
Hygienists
Katarzyna Pastuch
Registered under s36C of the Dentists Act 1984 2017
GDC Registration No. 262570
Katarzyna's passion for dentistry began in 2010 while working as a dental nurse. She later graduated in Poland in 2014 as a dental hygienist.
Katarzyna promotes dental health by preventative care and patient education. She constantly improves her qualifications and skills, to provide the highest quality service to her patients. Katarzyna is known for her gentle and friendly approach.
Practice Manager