Dentist in Barking, Essex

The practice itself is brand new, modern & fresh. Staff are so professional and I always get an appointment when I need one

Mrs Hassan, Barking
Why Choose Us
Our Team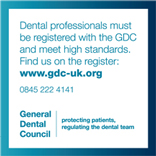 All our dentists adhere to the rules governing the profession under strict guidance from the General Dental Council (GDC) "Standards for Dental Professionals".
Dentists
Shital Sojitra
BDS Birm 2000
GDC Registration No. 78097
Dr Sojitra was educated in London, and then studied further at Birmingham University gaining her qualification of Batchelor of Dental Surgery in the year 2000.
Following this she completed further training in London prior to working for Abbey Dental as a fully qualified Dental Surgeon.
Dr Sojitra has a vast amount of knowledge and experience combined with fine clinical skills. This includes all aspects of general dentistry including emergency treatment.
In addition to her broad knowledge base, she has a particular interest in cosmetic dentistry and endodontics.
Professional membership includes being a member of the British Dental Association.
Languages spoken are: English, Gujrati, and Hindi.
Janki Vaghela
BDS London 2013
GDC Registration No. 244882
Janki graduated from Kings College London Dental Institute in 2013. Since then she has completed further training in London and has been working in general practice.
Janki has a keen interest in further education and has recently completed Membership of the Faculty of Dental Surgery Postgraduate Examinations. She is a Member of the British Dental Association.
Janki is known for her calm and collective nature and is sure to put all her patients at ease. Her interests include restorative dentistry and treatment of children.
Additional Languages spoken: Hindi, Gujarati
Maryam Zane-Azirani
BDS Lond 1999
GDC Registration No. 77127
Maryam grew up in Iran and later studied dentistry at Bart's and the London Hospital. Following her graduation in 1999, she completed vocational training in Wales. Since then Maryam has been working in general practice and Domiciliary.
Over the years Maryam has attended many different courses such as an Aesthetic Restorative course at Kew led by Mr Stean and the Inman Aligner Certification Course. She is a member of the British Dental Association.
Maryam enjoys all aspects of dentistry, especially Oral Surgery and Endodontics. Putting patients at ease and reducing their level of anxiety and fear is of prime importance to her, and she will do her best to achieve this.
Languages Spoken: English and Farsi
Amina Bashir
BDS Lond 2013 BSc (Hons) 2009
GDC Registration No. 245280
Amina qualified at the Royal London Dental School after studying Biomedical Sciences at the University of Essex and working within medical microbiology at Southend University Hospital. She has since worked in general dental practice within London and Essex and continues her professional development by attending regular courses.
As a dentist, Amina actively encourages her patients to understand how best to improve their dental health, promoting good oral hygiene and providing treatment in a calm and caring manner. Amina takes time to explain treatment options, outcomes and steps to her patients so that they are fully informed and confident in their choices.
Amina enjoys the variety involved general dentistry from simple oral hygiene education to oral surgery. She also enjoys turning a dentist visit into a positive experiences for her nervous patients and children.
Jamil Jeeva
BDS Queen Mary University of London (QMUL) 2015
GDC Registration No. 259310
Jamil graduated from The Royal London in 2015. He has been working with Abbey Dental ever since graduating and completing his further training having first worked at our Walthamstow branch before moving over to Barking.
Jamil takes great pride in all aspects of his clinical work. To ensure he is doing the very best for his patients, he involves himself in regular courses and reading of new articles and publications to expand his knowledge.
Although he is enthusiastic in all areas of general dentistry, he particularly enjoys doing root canal treatments.
Zainab Vasanwala
Statutory Exam 2016 BDS Maharashtra Uni of Health Sci 2012
GDC Registration No. 268029
Dr Vasanwala graduated from prestigious Indian University in 2012. After having worked in both public and private practices in India, she continues her dental career in London where she successfully completed the statutory registration exam to be registered dental surgeon in the UK.
Zainab enjoys all aspects of general dentistry with main interest and passion in aesthetic and restorative dentistry. She is also trained Invisalign provider, which allows her to provide orthodontic treatment to enhance her patients' smiles and boost their confidence.
Zainab believes successful dentistry is a team effort that involves not only the dentist and the dental team but also the patient therefore treating patients using a holistic approach and involving them as much as possible so that they are too excited about dentistry.
Zainab believes that there is always room for improvement and consistently striving to learn more by attending numerous seminars and lectures. Zainab is certified in facial aesthetics including anti-wrinkle injections and dermal fillers. She is keen on growing her skills in this area to be able to provide patients with bespoke treatments for their desired outcomes, giving subtle and natural enhancements.
Outside dentistry, she enjoys spending time with her family/friends, music travelling. Along with English she also speaks Hindi and Gujrati.
Rachael O'Flaherty
BDS University of Liverpool 2017
GDC Registration No. 270668
Rachael graduated from the University of Liverpool in 2017. Since graduating Rachael has worked as a general dentist in London and Liverpool. While training in London Rachael was on the LonDEC King's scheme and benefited from courses on white fillings, dentures, root canals and gum treatments, led by world renowned UK dentists.
Rachael enjoys all forms of NHS dentistry and likes to be busy. She has also completed cosmetic training in Botox and fillers, composite bonding with Enlighten Mini Smile Makeover, as well as short term with the IAS academy.
Hygienist
Mahak Haider
Registered under s36C of the Dentists Act 1984 2019
Coming soon…
Dhirendra Bantawa
Registered under s36C of the Dentists Act 1984 2021
GDC Registration No. 297134
Coming soon…